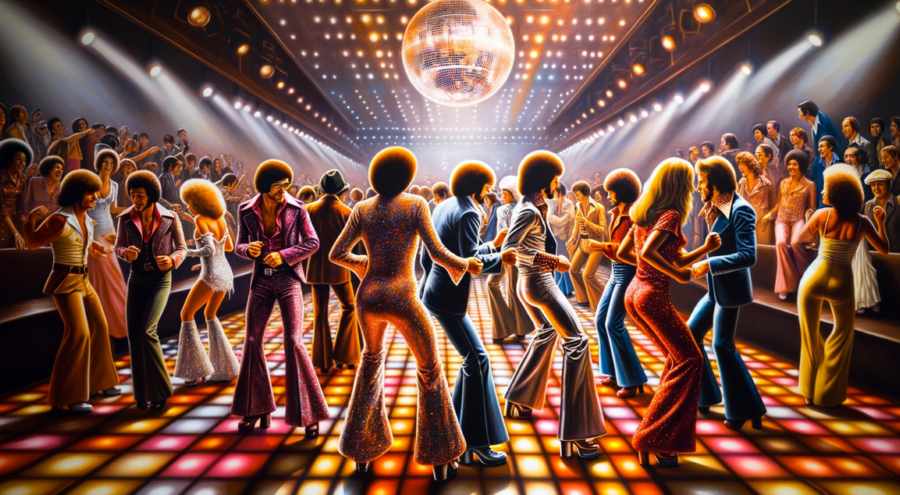 A Flashback to the Birthplace of Disco Glam
Imagine a world where the lights are dazzling, the music is pulsating, and the fashion is outrageous. A world where disco reigned supreme and glamour was a prerequisite for entry. This, my friends, was the legendary Studio 54, a hedonistic haven in the heart of 1970s New York City. It was a time when self-expression knew no bounds, and the club's infamous doors served as a portal to a parallel universe of excess and escapism.
But how did this fleeting moment in time come to be? What ingredients were needed to conceive this glittering, gaudy mecca of disco decadence? And, most importantly, what can we learn from this extraordinary period of nocturnal nirvana?
Studio 54: The Mecca of Disco Decadence
Located amidst the hustle and bustle of Manhattan's theater district, Studio 54 was the brainchild of two seemingly unremarkable entrepreneurs, Steve Rubell and Ian Schrager. What these gentlemen lacked in experience, they made up for in ambition and vision, transforming an old theater into the hottest ticket in town.
And what a ticket it was. Opened in 1977, Studio 54 quickly became synonymous with hedonism and excess. A melting pot of celebrities, socialites, and the fashion-forward, the club was a beacon for those looking to lose themselves in a kaleidoscope of lights, music, and unfettered debauchery. From Andy Warhol to Elizabeth Taylor, Bianca Jagger to Liza Minnelli, the venue's clientele read like a who's who of pop culture royalty.
Fashion and Glamour: The Lifeblood of Studio 54
But Studio 54 was not just about the famous faces that graced its hallowed halls. No, my friends, what truly set this discotheque apart was the fashion—the bold, unapologetic glamour that served as the lifeblood of the club. Sequins, feathers, and metallic fabrics were the order of the day, with patrons encouraged to push the boundaries of taste and decency in pursuit of the perfect outfit.
Take, for example, the legendary Halston, a pioneer of '70s fashion who dressed the likes of Bianca Jagger and Liza Minnelli. While his creations were undoubtedly chic and sophisticated, they also possessed a sense of daring and flamboyance that encapsulated the spirit of Studio 54. A plunging neckline or thigh-high slit was not just a fashion statement; it was a declaration of rebellion, of refusing to adhere to societal norms and expectations.
Dance the Night Away: The Soundtrack to Studio 54
And what of the music, I hear you ask? The pulsating, rhythmic heartbeat that kept the dancefloor alive and kicking? Well, it was nothing short of sublime. From the soaring strings of the Bee Gees to the sultry vocals of Donna Summer, the soundtrack to Studio 54 was a veritable cornucopia of disco delights.
It was a time when anything seemed possible, and the music reflected this sense of optimism and escapism. No matter your background or your troubles, once you stepped into Studio 54, there was no choice but to leave your inhibitions at the door and surrender to the beat.
Lessons from Studio 54: Living Life to the Fullest
Alas, the golden era of Studio 54 was fleeting, with the club shuttered in 1980 amid scandal and financial turmoil. But the spirit of Studio 54 lives on, a testament to a time when creativity and self-expression reigned supreme.
So, what can we learn from this extraordinary moment in history? Allow me to posit a few suggestions:
Embrace your inner rebel: Studio 54 taught us that rules were made to be broken, and that sometimes it's necessary to push the boundaries of what's considered 'acceptable" in order to create something truly memorable.
Dare to be different: In a world of conformity, Studio 54 stood out like a glittering, sequin-clad sore thumb. It's a reminder to be bold, to be brave, and to never be afraid to forge your own path.
Never underestimate the power of a great outfit: Whether it's a pair of flared trousers or a head-to-toe sequined ensemble, the fashion of Studio 54 served as a reminder that clothes can be a powerful form of self-expression and can elevate a night out from ordinary to extraordinary.
Live in the moment: Studio 54 was, at its core, a celebration of the present. It's a reminder to seize the day, to dance like nobody's watching, and to cherish the fleeting moments of joy and connection that make life worth living.
There you have it, friends—a brief glimpse into the wild, wonderful world of Studio 54. A time when glamour was king, and an ordinary night out had the potential to become a work of art. May we all strive to bring a little bit of that Studio 54 magic into our own lives, one sequin at a time.
Article kindly provided by foreverinfashion.org